From Mania Exchange :
The goal of this project was to build a huge and fun endurance track. The editor area was split up into a grid of twenty five individual tracks. Each builder built their own individual track. Everyone built from base tracks that included pre-placed Start and Finish blocks. Some builders had to build from the ground up, others built from the sky down. All parts were combined using the copy/paste/macroblock tool, and then connected up, to make this huge endurance track we now know as District 25.
The track is a mixture of different styles. The hardest parts of the track are put near the beginning so that you can easily learn those parts. Careful attention was given to scenery and signage so that it is nearly impossible to get lost or take the wrong route.
– PARTICIPANTS –
Project Lead: eyebo
Track Builders: Elystix, BushMonkey, Phil, eyebo, Osaka, chuckie, Tuta, Haenry, RachoVolker, Mandark, md, Kent, Space, adsun, Alteran, Behi, cxomtdoh, cuba, ddbb, Blubber, sho0ta, basbaas, siem, Superal, Hans Holo
Validation: chuckie
Intro MT: Mandark
Beta Testing: adsun, chuckie
Trailer: adsun
Screenshot (Large) & Tower Signs: eyebo
Watch the Disctrict 25 trailer :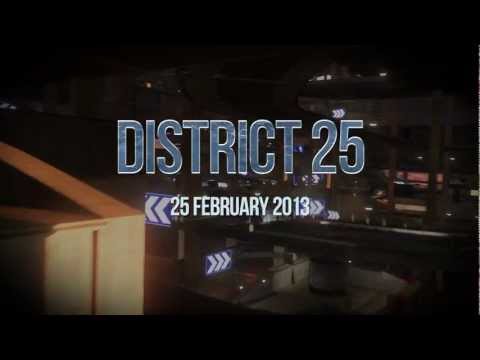 » District 25 «
» http://tm.mania-exchange.com/tracks/29233/district-25
» Congratulations for this great project ! «